Schumacher Construction Co. is trained, certified, and experienced in building Green.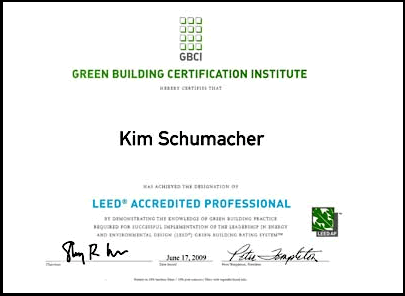 Kim L. Schumacher completed the coursework and received his certification as a LEED AP (Leadership in Energy and Environmental Design Accredited Professional) in 2009 from the Green Building Certification Institute (GBCI).

The GBCI administers credentialing programs that measure and improve the performance of buildings and communities as defined by the LEED Green Building Rating System developed by the US Green Building Council (USGBC).
A LEED AP is an individual who has passed the exam and possesses the knowledge and skills necessary to participate in the design and construction process, to support and encourage integrated design, and to streamline the application and certification process. It also demonstrates an understanding of green building practices and principles, and familiarity with LEED requirements, resources and processes.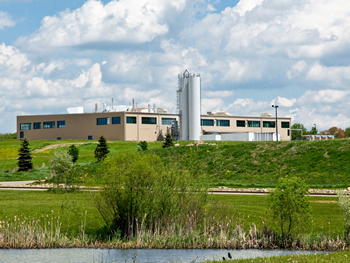 Kim Schumacher and Schumacher Construction Co. are gaining experience building Green and LEED Certification with the construction of the Shearer's Foods, Inc. - New Massillon Production Facility. We are on the leading edge of building Green as this is the first LEED Platinum building in Stark County and the first LEED Platinum Snack Food

Manufacturing Facility in the World! Schumacher Construction Co. has been involved in the complete project from the very beginning. After being retained as the Construction Manager, the LEED Certification process began with the selection of the design team. From there it's been an ongoing process throughout the design and construction and will continue thru project close out.
The Leadership in Energy and Environmental Design (LEED) Green Building Rating System™ encourages and accelerates global adoption of sustainable green building and development practices through the creation and implementation of universally understood and accepted tools and performance criteria.
LEED is a third-party certification program and the nationally accepted benchmark for the design, construction and operation of high performance green buildings. LEED gives building owners and operators the tools they need to have an immediate and measurable impact on their buildings' performance. LEED promotes a whole-building approach to sustainability by recognizing performance in five key areas of human and environmental health: sustainable site development, water savings, energy efficiency, materials selection and indoor environmental quality.
Schumacher Construction Co.
412 Lake Ave. NE
P.O.Box 676
Massillon, Ohio 44648
(330) 833-8387
© Copyright 2007-present Schumacher Construction Co. - All Rights Reserved
Maintained by Imaging 2000 Web Design