Feature Projects / Paul L. David Training Center


The Paul L. David Athletic Training Center is owned by the Massillon City Schools through a private contribution from the Paul and Carol David Foundation.
This facility is an 85,000 sq. ft. indoor athletic facility to serve all types of field sports and education including football,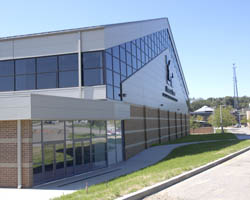 baseball, softball, soccer, track, golf, physical education, marching band, etc. for the Massillon City Schools.
The Paul L. David Athletic Training Center features a full size artificial turf football field housed in a 67' high VP Building system. The framing system is clear span trusses supporting a standing seam roof and 2" Metl Span foam core architectural wall panels above a 16' masonry wainscot. There is a large amount of glass to provide natural light along with an indirect lighting system to avoid glare.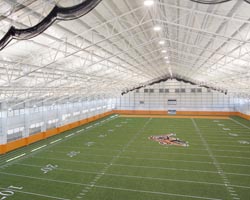 This facility was constructed as a major component to serve the DREAM (Developing Resources for Education and Athletics in Massillon) curriculum offering college credits in various medical fields to high school students through a partnership with Aultman Hospital and Walsh University. These classes include Nursing, Physical Therapy and Rehabilitation, Athletic Trainer Education and it is expected that the list will grow.
Athletic features include artificial turf flooring, wall padding for safety, and motorized drop-down nets for wall and glass protection, dividers, and batting and golf cages.
The design of the second phase, the Alumni Sports Medicine Complex, has been completed and will include a locker room, sports medicine training room, equipment room, classrooms, players lounge, and offices.
We are proud of the opportunity to work with the Paul and Carol David Foundation and the Massillon City Schools.
Schumacher Construction Co. has received a national honor for the design and construction of the Paul L. David Athletic Training Center

Varco Pruden Buildings, one of the nation's leading providers of metal building systems and a division of BlueScope Buildings North America, Inc., selected this project for its 2009 VP Hall of Fame. The award is presented annually to the independent Authorized VP Builders whose work reflects outstanding integration of building systems, products, and design. More than 1,000 builders in the United States and Canada are part of the Varco Pruden network.

Schumacher Construction Co.
412 Lake Ave. NE
P.O.Box 676
Massillon, Ohio 44648
(330) 833-8387

© Copyright 2007-present Schumacher Construction Co. - All Rights Reserved
Maintained by Imaging 2000 Web Design