Schumacher Construction Company is honored to have been the Construction Manager for the construction of the new Shearer's Foods, Inc. – New Massillon Production Facility.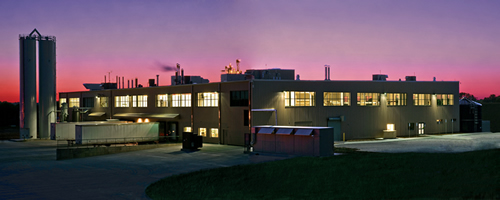 The new facility is located at 4100 Millennium Blvd., Massillon, Ohio 44646 in the Millennium Industrial Park.

This completed facility is the first phase of a multiple phase project which features new Tortilla Production, Packaging, and support services totaling 63,936 square feet. We've now started construction of Phase 2 to include Potato Chip Production and Warehousing totaling 65,790 square feet. Future phases will be added to include additional Warehouse and Distribution, and Corporate Offices which will increase the size to approximately 268,000 square feet. Additionally, long term growth has been planned for the facility.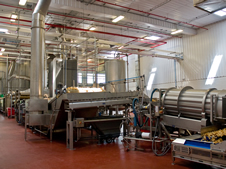 The 34 acre site features entry from Prospect Drive SE with a new main entrance from Millennium Blvd. SE with future phases.
The new facility is a GREEN Facility and LEED Platinum Certified as recognized by the U.S. Green Building Council. LEED is the acronym for Leadership in Energy and Environmental Design and involves energy efficiency, environmental conservation, and employee comfort. Shearer's Food's New Massillon Production facility is the First LEED Platinum Snack Food Manufacturing Facility in the World! Read more......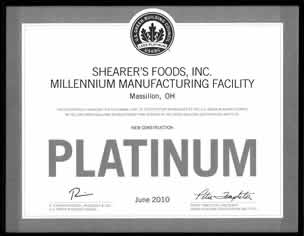 Schumacher Construction prides itself in being a service oriented contractor and goes above and beyond to take care of its customers. The majority of our business is with repeat customers and we are very proud to be working with Shearer's Foods, Inc. again on the fourth major expansion in 20 years along with the continuous service we provide them.